When my husband and I were trying to conceive (TTC) baby #2 we were hoping for a girl. By certain wives tales you can conceive a certain gender by doing the deed different days in accordance to your ovulation. Around this time I started searching online for ways to track everything that was going on with my body. While searching I found
This website is GREAT for keeping track of all of this:
You can also make charts online:
When I finally found out I was pregnant it switched to a different part of the site, which is all about you and baby. (http://preg.fertilityfriend.com/) It tells you what is going on with baby and you and your body each week and also keeps you up to date on how far along you are.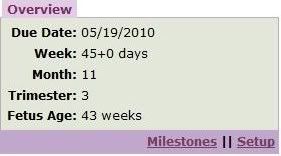 At the site you can also create a pregnancy ticker that will display on the top of your page once you log in. :) I highly recommend this website to anyone who is TTC.